Saint-Petersburg is the 2n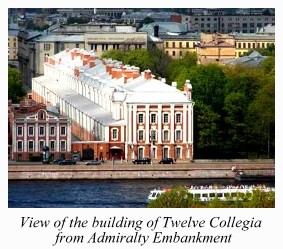 d largest city in Russia located on the Neva River at the head of the Gulf of Finland on the Baltic Sea. Founded in 1703 by Tsar Peter the Great Saint Petersburg was the imperial capital of Russia until 1918.
The meeting will be held in the Conference Hall of historical building of the Saint-Petersburg State University - Twelve Collegia. The edifice is an example of the style of Petrine Baroque, developed by Domenico Trezzini. It faces St. Isaac's Cathedral and the Neva River lined with unique granite embankments. Twelve Collegia is located in the very heart of the city, in the neighborhood of the Winter Palace, now Hermitage, featuring interiors of the former imperial residence and a vast collection of art, and the Peter's and Paul's Fortress being the cradle of the city.
Saint-P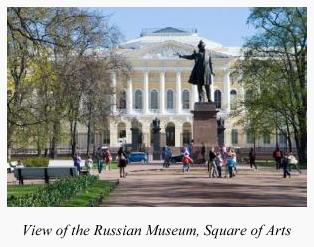 etersburg is one of the most breathtakingly beautiful places on earth. Conceived as an imperial capital, it was built on refined plan. Its extraordinary beautiful architectural ensembles reflect the talent of the architects and is linked to its complex history. Saint-Petersburg can be called an open air museum. It is the home for more than two hundred museums, many of them are hosted in historic buildings. The Russian Museum is a large museum devoted specifically to Russian fine art. No wonder the Historic Centre of Saint-Petersburg constitute a UNESCO World Heritage Site.
Having lost its status as the capital of the state, Saint-Petersburg is still the cultural capital of Russia. Cultural heritage of Saint-Petersburg is huge. Famous writers, poets, artists, composers, scientists lived and worked here. Places connected with these people are carefully preserved. Current cultural life of the city is very rich: numerous exhibitions of artists and interesting performances in theatres.
Among the city's more than fifty theaters is the world-famous Mariinsky Theater (also known as the
Kirov Theater in the USSR), home to the Mariinsky Ballet company and opera. The Petersburg School of Ballet is named as one of the best in the world.
And how magical are night walks along historic centre, threaded with canals dotted with baroque bridges. A familiar view of Saint Petersburg is a drawbridge across the Neva. Every night during the navigation period from April to November, 22 bridges across Neva and main canals are drawn to let ships pass in and out of the Baltic Sea. Nobody leaves indifferent watching this spectacular picture.
No visit to Saint-Petersburg is complete without a trip to at least one of the world-famous Imperial palaces in the southern city's suburbs - Tsarskoe Selo or Peterhof. These extraordinary estates boast sumptuous palaces, extensive landscape gardens, and a treasury of art and history.
For the global orientation you can use that Panoramic View of Saint-Petersburg.